Featured Headlines
Low-cost dexamethasone reduces death by up to one third in hospitalised patients with severe respiratory complications of COVID-19 – University of Oxford
A total of 2104 patients were randomised to receive dexamethasone 6 mg once per day (either by mouth or by intravenous injection) for ten days and were compared with 4321 patients randomised to usual care alone. Among the patients who received usual care alone, 28-day mortality was highest in those who required ventilation (41%), intermediate in those patients who required oxygen only (25%), and lowest among those who did not require any respiratory intervention (13%). [more information on study here]
Record spike in new coronavirus cases reported in six U.S. states as reopening accelerates – Reuters
New coronavirus infections hit record highs in six U.S. states on Tuesday, marking a rising tide of cases for a second consecutive week as most states moved forward with reopening their economies.
Bloomberg Podcast: Latin America's Viral Explosion
Coronavirus is spiking in Brazil, Mexico, Peru and elsewhere, and health experts have called Latin America the new epicenter of the pandemic. Jason Gale speaks with the WHO's top regional official to find out what makes some populations especially vulnerable.
Still Scared: Health Workers Feel the Toll of the Virus Fight – AP
Outside a back door to a hospital where the coronavirus hit like a hurricane, a half-dozen staffers gathered recently to look back, and look inward. "I am still scared," Dr. Gwen Hooley told her colleagues at Elmhurst Hospital, which was swamped with patients in late March as the virus rampaged through New York.
Race gaps in COVID-19 deaths are even bigger than they appear – Brookings.edu
Stark inequalities in COVID outcomes exist for the American Indian and Alaska Native population as well, however information on death rates for these groups is incomplete. Here, we focus on the three largest racial/ethnic groups, white, Black, and Hispanic/Latino, for which data are more reliable and which account for 93% of all COVID deaths reported by the CDC (through June 6).[1]
There's Low Risk of Food Spreading the Virus, Experts Say After Salmon Panic – Bloomberg
Food poses little risk of spreading the coronavirus, health experts around the globe said, reassuring consumers after an outbreak in Beijing was blamed on imported fish.
Clinical Considerations
Patients with underlying conditions were 12 times as likely to die of covid-19 as otherwise healthy people, CDC finds – Washington Post
People with underlying medical conditions such as heart disease and diabetes were hospitalized six times as often as otherwise healthy individuals infected with the novel coronavirus during the first four months of the pandemic, and they died 12 times as often, according to a federal health report Monday. [Related CDC Report]
Neuropathological Features of Covid-19 – NEJM
Neurologic symptoms, including headache, altered mental status, and anosmia, occur in many patients with Covid-19.1-3 We report the neuropathological findings from autopsies of 18 consecutive patients with SARS-CoV-2 infection who died in a single teaching hospital between April 14 and April 29, 2020.
COVID-19 Is "Very Different" in Young Kids Versus Adults – The Scientist
A study of 34 children hospitalized with a coronavirus infection in China reveals that fever and coughing were common, but the type of lesions typically seen in the lungs of adults with COVID-19 were rare. [Related PLoS Study]
Official Reporting for June 17, 2020

Total cases: 2,132,321
Total deaths: 116,862
(Numbers close out at 4 p.m. the day before reporting.)
Surveillance Headlines
UNITED STATES
Oregon: Church tied to Oregon's largest coronavirus outbreak – ABC News
Arizona: Arizona reports record number of coronavirus cases, with about 39,000 statewide – Tuscon.com
Florida: 16 friends test positive for coronavirus after an outing at a Florida bar – CNN
Georgia: Coronavirus cases on the rise again in Georgia – Atlanta Journal Constitution
Oklahoma: Oklahoma sets new daily record for COVID-19 infections – Oklahoman
Nebraska: Nebraska has 'relatively uncontrolled transmission' of COVID-19 – KETV
Alabama: Hospitals in several Alabama cities now seeing all-time highs in coronavirus patients – AL.com
California: California sees increase in cases and hospitalizations – Mercury News
EUROPE
Berlin, Germany: Hundreds of Berlin households placed under quarantine amid COVID-19 spike – Euronews
UK: Boris Johnson Promises to Cut 2-Meter Rule If Virus Cases Keep Falling – Bloomberg
ASIA
Thailand: The Cost Of Thailand's Coronavirus Success: Despair … And Suicide – NPR
MIDDLE EAST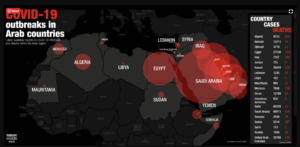 LATIN AMERICA
Brazil: Brazil Reports Big Surge In Coronavirus Infections – NPR
Chile: Once a Covid Role Model, Chile Now Among the World's Worst – Bloomberg
Honduras: President of Honduras Tests Positive for Coronavirus – NYT
Texas: Texas COVID-19 cases continue to rise: 'This is the consequence' of opening early, doctor says – KHOU News
---
Science and Tech
Vaccine
China's COVID-19 vaccine candidate shows promise in human trials, CNBG says – Reuters
China National Biotec Group (CNBG) said on Tuesday its experimental coronavirus vaccine has triggered antibodies in clinical trials and the company plans late-stage human trials in foreign countries.
Diagnostics
Therapeutics
Searching for Ways to Prevent Life-Threatening Blood Clots in COVID-19 – NIH Director's Blog
---
Infection Prevention
Surfaces Play Major Role in SARS-CoV-2 Transmission – HospiMedica
A new study claims that without effective surface cleaning, viruses can easily be disseminated by surface-mediated transmission. Researchers at University College London (UCL, United Kingdom) and Great Ormond Street Hospital for Children (GOSH; London, United Kingdom) used an artificially replicated section of DNA from a plant-infecting virus (which only affects cauliflowers), and added it to a 100 microlitres of water, spraying it onto a bed rail within an isolation room on a pediatric ward. Swab samples were then taken from ward surfaces that evening and the following four evenings to assess dispersal. In all, 44 samples were taken daily from the immediate bedspace environment, cubicle door handles, clinical areas, and from general ward areas. [Related Study]
Can a toilet promote virus transmission? From a fluid dynamics perspective – Physics of Fluids
Currently, a novel coronavirus named "SARS-CoV-2" is spreading rapidly across the world, causing a public health crisis, economic losses, and panic. Fecal–oral transmission is a common transmission route for many viruses, including SARS-CoV-2. Blocking the path of fecal–oral transmission, which occurs commonly in toilet usage, is of fundamental importance in suppressing the spread of viruses. However, to date, efforts at improving sanitary safety in toilet use have been insufficient. It is clear from daily experience that flushing a toilet generates strong turbulence within the bowl. Will this flushing-induced turbulent flow expel aerosol particles containing viruses out of the bowl? This paper adopts computational fluid dynamics to explore and visualize the characteristics of fluid flow during toilet flushing and the influence of flushing on the spread of virus aerosol particles. The volume-of-fluid (VOF) model is used to simulate two common flushing processes (single-inlet flushing and annular flushing), and the VOF–discrete phase model (DPM) method is used to model the trajectories of aerosol particles during flushing.
The outbreak that didn't happen: Masks credited with preventing coronavirus spread inside Missouri hair salon – Washington Post
---
Published Research
COVID-19 pandemic e let's not forget surfaces – Journal of Hospital Infection
The vascular endothelium: the cornerstone of organ dysfunction in severe SARS-CoV-2 infection – Critical Care
Clinical and epidemiological characteristics of pediatric SARS-CoV-2 infections in China: A multicenter case series – PLoS
Pre-Pub (not yet peer reviewed, should not be regarded as conclusive)
The D614G mutation in the SARS-CoV-2 spike protein reduces S1 shedding and increases infectivity – [BioRXiv]
---
Coping in Quarantine
Snapshots of life in quarantine in the midst of a pandemic – Forbes India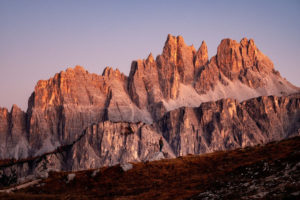 Day 1,297 in various forms of COVID-19 lockdown… I miss traveling. The photo is an area in the Italian Dolomites called Croda Da Lago. One of the most gorgeous hikes we did while living in Europe. There were sweeping vistas, vertical climbs, WWI bunkers, and cows wearing bells. One of the things I love most about hiking in Europe is when you get to the top of of a long climb, there is most always a hut serving cold beer and hot food. If you've never been, start googling and find a place to go when this is over.