Announcement:
We are switching to a twice-weekly Tulane Outbreak Daily format. After more than a year of 4-5 issues a week covering COVID, the volume of high value news content has slowed down in recent months. We will continue to bring our readers timely, relevant, science based COVID coverage from around the world every Tuesday and Friday morning. We welcome your feedback, and contributions!
Featured Headlines
U.S. to restrict travel from India effective May 4 as Covid surge devastates the country – NBC News
The Biden administration will restrict travel from India as that country grapples with a gigantic surge in coronavirus cases, White House press secretary Jen Psaki said Friday.
Reaching 'Herd Immunity' Is Unlikely in the U.S., Experts Now Believe – NYT
Widely circulating coronavirus variants and persistent hesitancy about vaccines will keep the goal out of reach. The virus is here to stay, but vaccinating the most vulnerable may be enough to restore normalcy.
Fauci to Internists: A Lot of 'Oops' in Early Days of Pandemic – MedPageToday
NIAID's director talks COVID PTSD, prepping for the next pandemic, and fighting anti-science. Anthony Fauci, MD, issued a warning for doctors on Thursday. After the year they've endured, they should all be on the lookout for post-traumatic stress disorder in themselves and their colleagues, and should find ways to manage it.
India Is Counting Thousands Of Daily COVID Deaths. How Many Is It Missing? – NPR
4 Min Audio at the link – Santosh Pandey's wife is the head of their village, population about 1,600, near the holy city of Varanasi in northern India. He sometimes answers her phone. So he's up to date on what's happening in town. And what's happening these days, he said, is horrific. Fifty people from his village, Ashapur, and a neighboring one, Tilamapur, have died in the past two weeks. Most died at home, gasping for breath, with fevers. But only five or six of them were officially counted as COVID-19 deaths, Pandey said.
Colorado sees rapid spread of cases among middle and high school students – NYT
Coronavirus cases in Colorado are rapidly increasing among middle and high school students, state public health officials said this week, four months after schools began to reopen.
Morocco detects first two cases of Indian coronavirus variant – Reuters
Morocco has detected its first two cases of the Indian variant of the coronavirus whose contacts have been isolated to avoid contagion, the health ministry said on Monday.
India's vaccine shortage to last months, top manufacturer warns – Washington Post
India's vaccine shortage will probably last for months after the government failed to properly plan for a second wave of coronavirus infections, the head of the world's largest vaccine manufacturer said.
Trinidad and Tobago tightens lockdown as COVID-19 cases surge – Reuters
Trinidad and Tobago said on Monday it was tightening lockdown restrictions for three weeks starting at midnight as the number of new COVID-19 cases hits record highs and the Caribbean twin-island nation faces a potential shortage of hospital beds.
The Pandemic's Lethal Twilight – The Intelligencer
COVID isn't done with us. The decisions we make now will have life-and-death consequences for millions. Americans are still dying of COVID. Not in the same numbers as during last winter's horrific peak, but still at an agonizing clip, with more than 700 fatalities a day on average. In other words, tens of thousands of otherwise healthy people walking around today will die of it in the months ahead.
COVID 'Doesn't Discriminate By Age': Serious Cases On The Rise In Younger Adults – WBUR
After spending much of the past year tending to elderly patients, doctors are seeing a clear demographic shift: young and middle-aged adults make up a growing share of the patients in COVID-19 hospital wards.
Scientists scramble to see why, in rare cases, even the vaccinated can get COVID-19 – Los Angeles Times
Carey Alexander Washington, 80, a practicing clinical psychologist, called his daughter in January as soon as he received his first dose of the Pfizer COVID-19 vaccine.
Vaccine Headlines
Brazil's health authority rejects importing Russia's Sputnik V vaccine. – NYT
Brazil's health authority said late Monday that it would not recommend importing Sputnik V, the Covid-19 vaccine developed by Russia.The need for vaccines is urgent in Brazil: The country has been battered by one of the world's worst outbreaks, driven by the highly contagious P. 1 virus variant.
See a COVID vaccine get made step-by-step – Nature
How the Pfizer–BioNTech vaccine is made, anti-twinkles hint at antimatter stars, and the deadly toll of inequality.
Army scientists develop experimental coronavirus vaccine – NBC
Video – Right outside of Washington D.C Army scientists have developed a unique and experimental coronavirus vaccine. Lab tests suggest it could protect against newer, more transmissible variants, including those identified in the U.K. and South Africa. Clinical trials are now underway at Walter Reed Army Institute of Research.
Are Some a Little Too Anxious for J&J's COVID Shot? – Medical News Today
Even prior to pause, anxiety-related events reported at five mass vaccination sites. Rates of syncope, or fainting, following administration of Johnson & Johnson's COVID-19 vaccine were significantly higher than rates following influenza vaccination, researchers found.
The F.D.A. is set to authorize the Pfizer-BioNTech vaccine for those 12-15 years old by early next week – NYT
The Food and Drug Administration is preparing to authorize use of the Pfizer-BioNTech coronavirus vaccine in adolescents 12 to 15 years old by early next week, according to federal officials familiar with the agency's plans, opening up the U.S. vaccination campaign to millions more people.
Lucha Libre, Yoga, Dancing: Welcome to Mexico City's Vaccination Sites – NYT
To calm Mexico City's elderly, who were arriving "really scared" at vaccination sites, officials cued up the bands and masked wrestlers.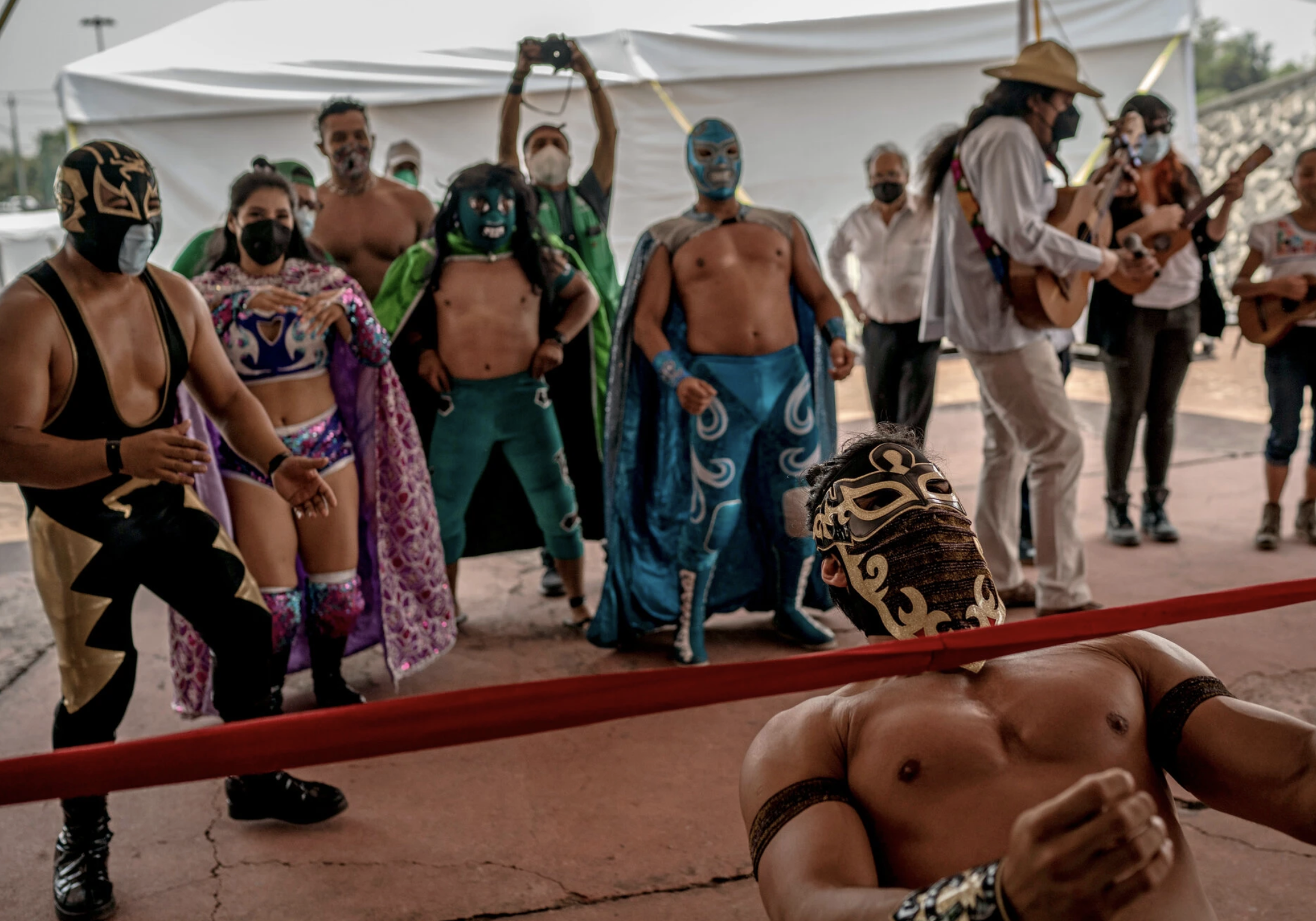 Life After Vaccination
E.U. proposal would allow vaccinated American tourists by the end of June – Washington Post
The European Union on Monday announced a road map to allowing vaccinated people from outside the bloc to travel to Europe, foretelling a more normal and connected continent after more than a year in which its boulevards and beauty have been off-limits to most of the world.
Anxious about post-vaccine travels? You're not alone, according to mental health pros. – Washington Post
For travelers with anxiety and panic disorders, vacations did not always feel like getaways, even before covid-19. A century ago, Sigmund Freud described these feelings as "reiseangst," from the German for "travel fear." Travel anxiety has since become a catchall for symptoms and fears that, left unchecked, might spoil an otherwise relaxing trip.
Clinical Considerations
Children Now Account For 22% of New U.S. COVID Cases. Why Is That? – NPR
The number of children contracting COVID-19 in the U.S. is much lower than the record highs set at the start of the new year, but children now account for more than a fifth of new coronavirus cases in states that release data by age, according to the American Academy of Pediatrics. It's a statistic that may surprise many: Just one year ago, child COVID-19 cases made up only around 3% of the U.S. total.
Official Reporting for May 4, 2021
World Health Organization
Confirmed Cases: 152 534 452
Deaths: 3 198 528
Confirmed Cases: 153,188,568
Deaths: 3,209,919
Total cases: 32,228,003 (+32,452 New Cases)
Total deaths: 574,220 (+423 New Deaths)
Science and Tech
Immunity to SARS-CoV-2 variants of concern – Science
Vaccine candidates based on spike, the glycoprotein that is essential for host cell entry by severe acute respiratory syndrome coronavirus 2 (SARS-CoV-2), were being designed within days of its reported sequence in January 2020. All the vaccines aim to prevent disease primarily (but not exclusively) by eliciting neutralizing antibodies that block spike and therefore prevent the ability of SARS-CoV-2 to infect cells. The 95% efficacy of the BNT162b2 messenger RNA (mRNA) vaccine (from Pfizer/BioNTech) heralded a series of results showing that eliciting neutralizing antibodies to spike strongly correlated with protection from disease in clinical trials of various vaccines. Currently, there is concern about reduced vaccine-induced immune protection to emerging variants that have mutations in the spike protein. On page 1152 of this issue, Muik et al. (1) found reduced induction of neutralizing antibodies from BNT62b2. However, there is likely sufficient efficacy remaining to confer protection from symptomatic disease.
Antibody drug neutralizes virus variants in lab study; COVID-19 antibodies detectable 12 months after infection – Reuters
The following is a roundup of some of the latest scientific studies on the novel coronavirus and efforts to find treatments and vaccines for COVID-19, the illness caused by the virus.
COVID-19-related anosmia is associated with viral persistence and inflammation in human olfactory epithelium and brain infection in hamsters – Science
Whereas recent investigations have revealed viral, inflammatory and vascular factors involved in SARS-CoV-2 lung pathogenesis, the pathophysiology of neurological disorders in COVID-19 remains poorly understood. Olfactory and taste dysfunction are common in COVID-19, especially in mildly symptomatic patients.
Psychological and Sociological Impact
More than a year into the pandemic, we're still figuring out what risks we're willing to take – Washington Post
When the Centers for Disease Control and Prevention last week issued guidelines for what vaccinated people can safely do, the agency employed the word "risk" 43 times. The word often carried a modifier, like so: increased risk, residual risk, low risk, potential risk, minimal risk, higher risk. The CDC did not define "low," "minimal" or "higher," instead using broad brushstrokes to paint a picture of post-vaccination life.
Maskless and Sweaty: Clubbing Returns to Britain for a Weekend – NYT
In Liverpool, people danced together at a warehouse party as part of a scientific trial of how and if social distancing can safely end. Around 3,000 clubbers were rammed up against each other inside a Liverpool warehouse on Friday night, waving their hands in the air to pounding techno music.
5 foods people are still devouring during the COVID-19 pandemic – yahoo finance
Short answer: cookies, cereal, fast food burgers, chocolate.
Published Research
A urinary peptidomic profile predicts outcome in SARS-CoV-2-infected patients – The Lancet
Vaccine Breakthrough Infections with SARS-CoV-2 Variants – NEJM
Mild COVID-19 Is Not Necessarily Benign – NEJM
Misinformation, Disinformation, and Conspiracy Theories
Vaccine Hesitancy
How a Miami School Became a Beacon for Anti-Vaxxers – NYT
Centner Academy barred teachers newly vaccinated against the coronavirus from being near students. Some parents threatened to withdraw their children. Others clamored to enroll.
Millions Are Saying No to the Vaccines. What Are They Thinking? – The Atlantic
Feelings about the vaccine are intertwined with feelings about the pandemic. Several days ago, the mega-popular podcast host Joe Rogan advised his young listeners to skip the COVID-19 vaccine. "I think you should get vaccinated if you're vulnerable," Rogan said. "But if you're 21 years old, and you say to me, 'Should I get vaccinated?' I'll go, 'No.'"
No, Other People's Covid Vaccines Can't Disrupt Your Menstrual Cycle – NYT
In recent weeks, people who oppose Covid vaccinations have spread a claim that is not only false but defies the rules of biology: that being near someone who has received a vaccine can disrupt a woman's menstrual cycle or cause a miscarriage.
Coping in 2020 (and probably most of 2021)