Featured Headlines
India's Health System Cracks Under the Strain as Coronavirus Cases Surge – New York Times
At least 22 people died from loss of oxygen in a hospital accident. Infections hit a daily record. And the government faced criticism for allowing an enormous Hindu festival to continue.
How Do We Stop The Next Pandemic? Here's A New Strategy – NPR
In movies such as Contagion, a pandemic begins in a flash. A deadly virus spills over from an animal, like a pig, into humans and then quickly triggers an outbreak. But that's not actually what happens, says Dr. Gregory Gray at the Duke Global Health Institute. "It's not like in the movies," he says, "where this virus goes from a pig in Indonesia and causes a pandemic."
An unvaccinated worker set off an outbreak at a U.S. nursing home where most residents were immunized – NYT
An unvaccinated health care worker set off a Covid-19 outbreak at a nursing home in Kentucky where the vast majority of residents had been vaccinated, leading to dozens of infections, including 22 cases among residents and employees who were already fully vaccinated, a new study reported Wednesday.
'Hands of love': warm latex gloves mimic human touch for COVID-19 patients in Brazil – Reuters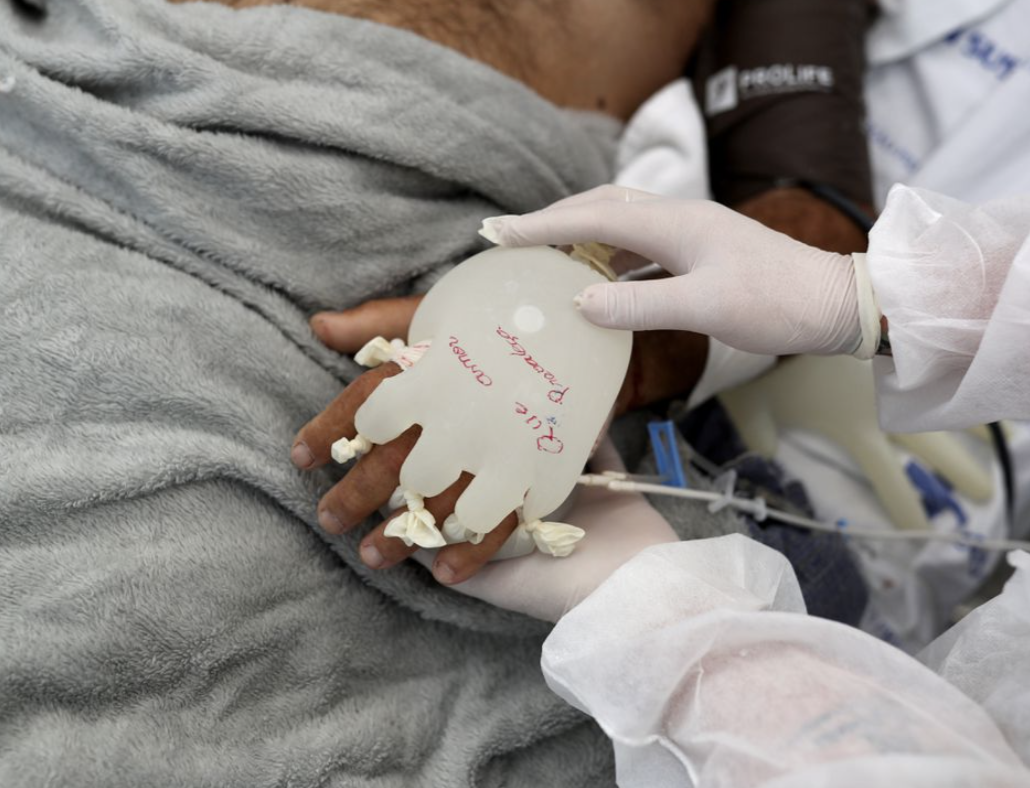 The fight against COVID-19 is a lonely one with patients forced into isolation in intensive care wards, removed from family and friends. But two nurses in the small city of Sao Carlos, in Sao Paulo state, have discovered a way to help with a millimeter of latex and some warm water that mimics a human touch.
How Safe Are You From Covid When You Fly? – NYT
To understand how risky it may be to board a flight now, start with how air circulates in a plane.
Large NIH clinical trial will test polyclonal antibody therapeutic for COVID-19 – NIH
A Phase 2/3 trial to evaluate a new fully-human polyclonal antibody therapeutic targeted to SARS-CoV-2, called SAB-185, has begun enrolling non-hospitalized people with mild or moderate cases of COVID-19. The trial, ACTIV-2, is sponsored by the National Institute of Allergy and Infectious Diseases (NIAID), part of the National Institutes of Health. The therapeutic was developed by SAB Biotherapeutics, Inc. (Sioux Falls, South Dakota).
Masks Remain Extremely Effective Indoors, But Are They Necessary Outside? – NPR
Scientists and public health experts agree that masks are effective at lowering the spread of the coronavirus indoors, where the vast majority of transmission is likely to occur.
Study: Sex differences in Covid-19 mortality vary across racial groups – MIT News
Black women are more vulnerable than white men, illustrating how race and gender intersect to shape health outcomes.
Is herd immunity to COVID-19 possible? Experts increasingly say no. – USA Today
For almost a year, Americans have been looking forward to herd immunity, when enough people are protected through vaccination or past infection to stop the spread of COVID-19.
Vaccine Headlines
EU agency links J&J shot to rare clots, says odds favor use – MedPageToday
The European Union's drug regulatory agency said Tuesday that it found a "possible link" between Johnson & Johnson's COVID-19 vaccine and extremely rare blood clots and recommended a warning be added to the label. But experts at the agency reiterated that the vaccine's benefits outweigh the risks.
J&J to cooperate in study of rare clots linked to COVID-19 vaccine, German scientist says – Reuters
A German scientist studying extremely rare blood clots linked to AstraZeneca's (AZN.L) COVID-19 vaccine said on Tuesday Johnson & Johnson (JNJ.N) has agreed to work with him on the research after similar serious side effects emerged in recipients of its shot.
Why the Panic Over Israeli Study on Infections After Vax? – MedPageToday
A small Israeli study published as a preprint on medRxiv indicated that some of the new coronavirus variants may put people who have been vaccinated at higher risk of a "breakthrough infection."
First Dose of Chinese Covid-19 Vaccine Offers Little Protection, Chile Learns – Wall Street Journal
Several days after receiving his first dose of a Chinese-made coronavirus vaccine, Rodrigo Jordán fell ill and tested positive for Covid-19. The 61-year-old was hospitalized near his home in the Chilean capital, Santiago, for nine days and needed supplemental oxygen to pull through.
Federal Inspectors Fear More Vaccines Were Exposed to Contamination – NYT
Last month, up to 15 million doses of Johnson & Johnson's vaccine had to be discarded at Emergent's factory in Baltimore. A new report says problems were not fully investigated and other doses may be compromised.
Clinical Considerations
None Today
Official Reporting for April 22, 2021
World Health Organization
Weekly Epi Update April 20, 2021
Confirmed Cases: 142 557 268
Deaths: 3 037 398
Confirmed Cases: 143,511,162
Deaths: 3,055,894
Total cases: 31,602,676 (+57,261 New Cases)
Total deaths: 565,613 (+733 New Deaths)
Science and Tech
The Covid-19 Plasma Boom Is Over. What Did We Learn From It? – NPR
The U.S. government invested $800 million in plasma when the country was desperate for Covid-19 treatments. A year later, the program has fizzled.
Psychological and Sociological Impact
How Bad Is Our Pandemic Drinking Problem? – NYT
Published Research
Vaccine Breakthrough Infections with SARS-CoV-2 Variants – NEJM
Emerging variants of severe acute respiratory syndrome coronavirus 2 (SARS-CoV-2) are of clinical concern. In a cohort of 417 persons who had received the second dose of BNT162b2 (Pfizer–BioNTech) or mRNA-1273 (Moderna) vaccine at least 2 weeks previously, we identified 2 women with vaccine breakthrough infection. Despite evidence of vaccine efficacy in both women, symptoms of coronavirus disease 2019 developed, and they tested positive for SARS-CoV-2 by polymerase-chain-reaction testing. Viral sequencing revealed variants of likely clinical importance, including E484K in 1 woman and three mutations (T95I, del142–144, and D614G) in both.
Misinformation, Disinformation, and Conspiracy Theories
None Today
Coping in 2020 (and probably most of 2021)
The COVID memes are getting dark