India detects 'double mutant' coronavirus variant in western state – Reuters
India has detected a "double mutant variant" of the novel coronavirus in 206 samples in the worst-hit western state of Maharashtra, a senior government official said on Wednesday.
India reports most COVID-19 deaths this year – Reuters
India reported 275 new COVID-19 deaths on Wednesday, the most this year, as a second surge in cases fills up hospital beds in big states such as Maharashtra.
Belgium imposes new lockdown to fight third COVID-19 wave – Reuters
Belgium will close schools, non-food stores and hairdressers for four weeks from Saturday, in a sharp renewed lockdown designed to contain a rising third wave of COVID-19 infections.
Brazil's daily deaths surpass 3,000 for first time – BBC
The country has reported 298,676 deaths linked to the virus since the start of the pandemic, with experts saying the situation is virtually out of control. President Jair Bolsonaro, who has opposed lockdowns and criticised face masks, defended his actions on Tuesday.
New SARS-CoV-2 Variants — Clinical, Public Health, and Vaccine Implications – NEJM
Across the world, there are multiple variants of severe acute respiratory syndrome coronavirus 2 (SARS-CoV-2), the virus that causes coronavirus disease 2019 (Covid-19). SARS-CoV-2 variants have been classified by the Centers for Disease Control and Prevention (CDC) as variants of interest, variants of concern, and variants of high consequence. Three new variants1 that have rapidly become dominant within their countries have aroused concerns: B.1.1.7 (also known as VOC-202012/01), 501Y.V2 (B.1.351), and P.1 (B.1.1.28.1).
What Earlier Epidemics Teach Us about Covid-19 – NEJM
Audio Interview – he continuing spread of SARS-CoV-2 remains a Public Health Emergency of International Concern. What physicians need to know about transmission, diagnosis, and treatment of Covid-19 is the subject of ongoing updates from infectious disease experts at the Journal.
Vaccine Headlines
Women Report Worse Side Effects After a Covid Vaccine – NYT
Men and women tend to respond differently to many kinds of vaccines. That's probably because of a mix of factors, including hormones, genes and the dosing of the shots.
Data concerns and safety worries fuel crisis of confidence in AstraZeneca vaccine – Science
In the global battle against COVID-19, the vaccine made by British-Swedish firm AstraZeneca has been a source of great hope. It's easy to store—requiring only refrigeration, not a deep freeze—and the firm has partnered with several other manufacturers as part of its pledge to make the vaccine, developed by researchers at the University of Oxford, available to countries around the world at low cost.
COVID Vaccine Side Effects: Is the System Working? – Med Page Today
It's now 100 days since the first COVID shot was given in the largest mass vaccination campaign in U.S. history. With more than 2 million shots administered daily, more vaccines are going in arms each day in America than in all of the clinical trials combined.
Vaccine Efficacy of ALVAC-HIV and Bivalent Subtype C gp120–MF59 in Adults – NEJM
A safe, effective vaccine is essential to eradicating human immunodeficiency virus (HIV) infection. A canarypox–protein HIV vaccine regimen (ALVAC-HIV plus AIDSVAX B/E) showed modest efficacy in reducing infection in Thailand. An analogous regimen using HIV-1 subtype C virus showed potent humoral and cellular responses in a phase 1–2a trial in South Africa. Efficacy data and additional safety data were needed for this regimen in a larger population in South Africa.
Cuba will administer Covid-19 experimental vaccines to nearly all Havana residents – NBC News
This month they began late phase trials of two of their five experimental shots, Soberana 2 and Abdala. If successful, they'd be Latin America's first homegrown vaccines.
Clinical Considerations
The 'Tamiflu' Approach to Treating COVID-19 – MedPageToday
While vaccines have dominated the landscape in the fight against COVID-19, oral antiviral pills that can be taken as an outpatient, with the goal of forestalling serious illness, are also in the works.
Remdesivir Shows Some Benefit in Minority Groups – MedPageToday
Remdesivir (Veklury) was tied to faster clinical improvement in a predominantly non-white group of patients hospitalized with COVID-19, researchers found, though a mortality benefit couldn't be demonstrated.
Aspirin may reduce deaths in severe COVID-19 – Medical News Today
Early in the pandemic, research showed that almost one-third of people with COVID-19 in intensive care experienced potentially fatal complications as a result of excessive blood clotting. Another study Trusted Source found that many of these patients had unusually "sticky" blood that tended to coagulate easily. "As we learned about the connection between blood clots and COVID-19, we knew that aspirin — used to prevent stroke and heart attack — could be important for COVID-19 patients," says Jonathan Chow, M.D., assistant professor of anesthesiology and critical care medicine at the George Washington University School of Medicine and Health Sciences in Washington, D.C.
Official Reporting for March 25, 2021
World Health Organization
Weekly Epi Update March 22, 2021
Confirmed Cases: 123 902 242
Deaths: 2 727 837
Confirmed Cases: 124,683,860
Deaths: 2,742,357
Total cases: 29,769,325 (+58,922 New Cases)
Total deaths: 541,289 (+778 New Deaths)
Science and Tech
How tuberculosis reshaped our immune systems – Science
Think of humanity's worst plagues, and the Black Death, the Spanish flu, and COVID-19 all come to mind. Millions have died in those deadly pandemics, but their toll pales in comparison with that of tuberculosis (TB), which has killed more than 1 billion people over the past 2000 years—and still kills 1.5 million people worldwide every year. But how and when TB got to be so deadly has long been a mystery.
Cross Section of SARS-CoV-2 Virus – Issues in Science and Technology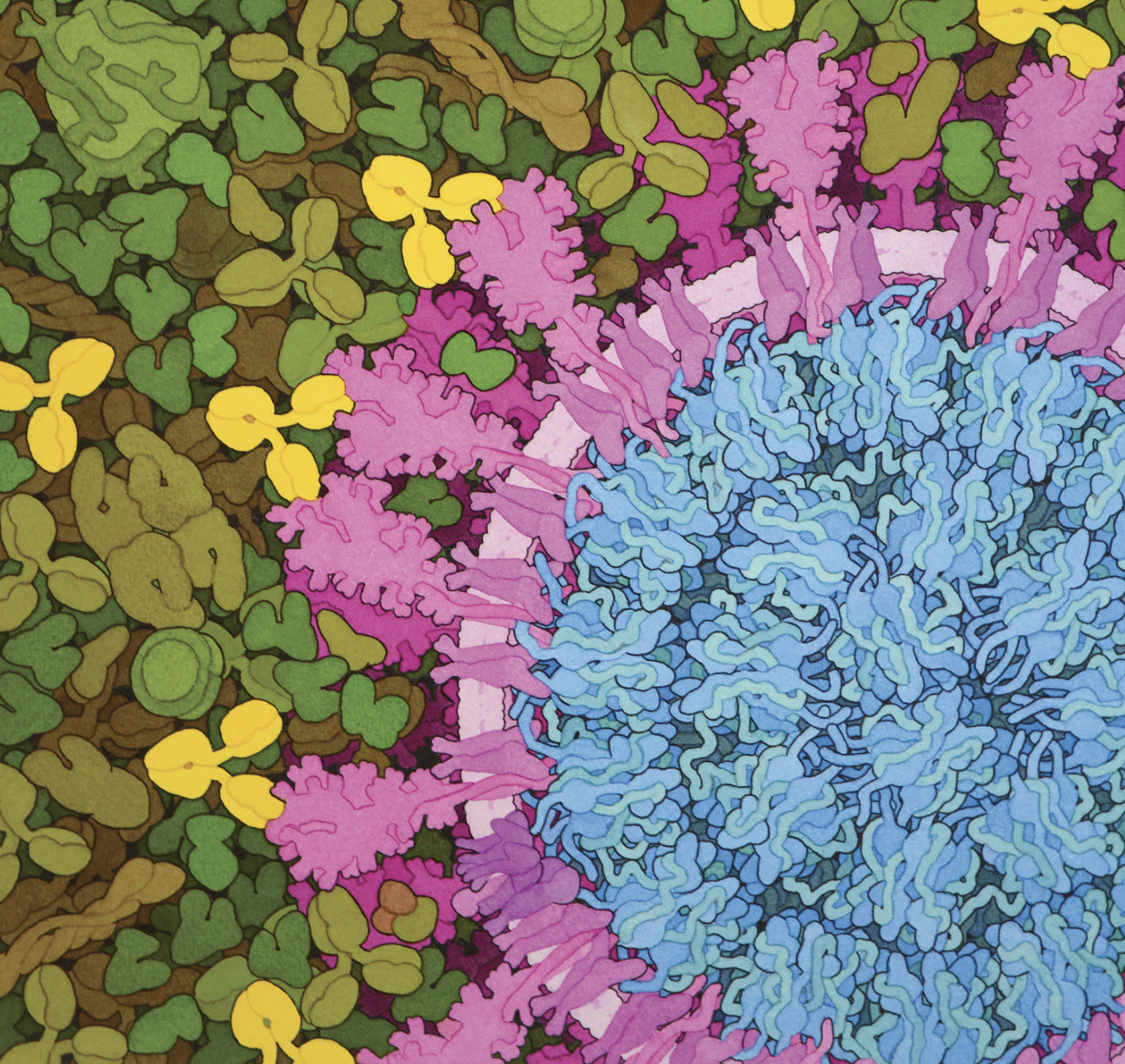 In this watercolor painting, a cross section of the SARS-CoV-2 virus that causes the COVID-19 disease is surrounded by blood plasma, with neutralizing antibodies depicted in bright yellow. Commissioned by the journal Nature for the cover of its August 2020 COVID-19 special issue, the painting shows the virus, which is invisible to the naked eye, as a physical entity. Since early 2020, David Goodsell, a molecular biologist and artist, has been creating portraits of the coronavirus in which he attempts to capture the rapidly evolving state of knowledge of its structure.
Psychological and Sociological Impact
None Today
Published Research
Severe acute respiratory syndrome coronavirus 2 (SARS-CoV-2) – Journal of Medical Microbiology
Misinformation, Disinformation, and Conspiracy Theories
These Moms Work as Doctors and Scientists. But They've Also Taken On Another Job: Fighting COVID-19 Misinformation Online – Time Magazine
Last March, friends and neighbors began stopping Emily Smith in her town outside of Waco, Texas, with questions about the coronavirus. An epidemiologist at Baylor University, Smith knows all too well how viruses are transmitted. But as the wife of a pastor and as a woman of faith, she also holds a trusted position in her community, and she would speak to those who asked about why she personally thought social distancing was a moral choice.
Coping in 2020 (and probably most of 2021)